Fully Qualified Technicians to meet our high standard of Maintenance services.

Dedicated to our customer needs
Maintain fully stock 365days to provide prompt service and parts replacement to our customers
Design assistance to specifiers they can create the safest and most efficient doorways that comply with highest standards.
We follow quality standards to ensure safety, quality, reliability and after-sales service to both specifiers and users are met.
Automatic Doors imported from Japan
Welcome to view our Web page. We look forward to providing useful information regarding any automatic door entrance solutions like swing, telescopic, sliding, revolving, curved, folding etc. Global Automatic Door International Company is the only company in Sri Lanka and Maldives representing the most reputable automatic door manufacturer from Japan under the brand JAD. We are one of the leaders in supplying, installing and servicing automatic doors in Sri Lanka and Maldives and we pride ourselves by providing good quality workmanship, quick response time and the best solutions to all door entrances. Use our product once and we will always be your preferred choice like many other reputable companies who are using our products and services.
Regular customers and their recommendations can
confirm our high professionalism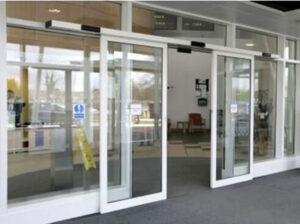 Sliding door operators as individual solutions for today's living requirements.
Curved Sliding Doors create a hugely impressive entrance with an ultramodern experience.
Automatic Folding Doors are an elegant and functional option for areas where space is limited.
Automatic Revolving Doors were specially designed to relieve the immense pressure…
* * Care free access changing the elegance of the building * *
Improve traffic flow in busy environments or space-limited areas
Improve accessibility for disabled persons and increase potential audience
Improve user experience and make life easier for individuals over-burdened with goods (i.e. luggage, shopping bags, trolleys, heavy equipment).
Reduce energy bills and can (in the case of Revolving doors) maintain consistent climate control within a building.
Provide a range of configurations for automatic door operation.
Prevent the need for users to make physical contact with the door. This helps to thwart the spread of harmful bacteria/viruses.